Sports have strengthened bonds among people since ancient times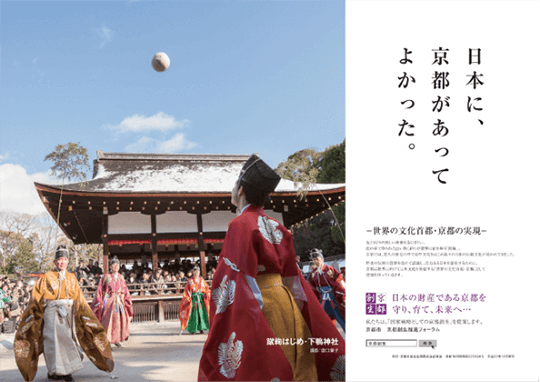 More than 1,000 years ago, the nobles in Kyoto enjoyed doing Kemari. It is a non-competitive sport where several players cooperate to keep one ball in the air by juggling it together in the group, using their body parts except arms and hands like some people practice doing so with a soccer ball. At present, Kemari is still performed in its original manner and costumes at some shrines, and you can enjoy the essence of the sport in those times.
Today, there are so many different kinds of sports in the world. Some have a long history, but others date back only a few decades or less. Despite the differences, there is one truth that any sport has a power to unite people including athletes, their families, spectators, supporters and staff etc.
However, the spread of COVID-19 has taken opportunities away from us to participate in sport events. Therefore, following the 2021 event, we have decided to provide you with an event where we can take part together, which we hope will promote our solidarity in this global crisis.
On-site Kyoto Marathon will resume!
Kyoto City will hold the Kyoto Marathon 2023 onsite for the first time in 3 years. The course is designed to run through the beautiful townscape of Kyoto. The city will call for runners from all around the world.*
*Participation may only be allowed for runners living in Japan due to travel restrictions to Japan. The decision will be made in mid-September.
Currently, Kyoto is in a difficult situation financially due to the COVID-19 pandemic like any other cities in the world. The number of international overnight visitors in Kyoto has fallen by 99.6% in 2021 compared to that of the previous year. We would appreciate it very much if you could show your kindness by donating to the City of Kyoto. It will be a great help for us to get through the difficulties.
Your donation will be used for:
Enhancing future Kyoto Marathon projects
Promotion of sports in the city
Restoring or improving sport related facilities in the city
Other