2021.10.14
Let's Vote – Vote for Your Preferred Finisher's Medal Design on SNSs
This year again, we need your input on which design to use for the medal that will be given away to finishers of Online Kyoto Marathon.
We have prepared two excellent designs that every runner will eagerly eye. Just "Like" the one that you prefer. The winner will be decided by the numbers of "Likes" on Facebook, Twitter, and Instagram combined.
Whether you are going through a different Kyoto Marathon experience this year, or you are going to run 42.195 km because it's virtual, we hope that all participants witll get this special medal. You don't need to run Online Kyoto Marathon to vote. We invite you all to freely "Like" your favorite design!
Voting period: From 10:00, Thursday, October 14 to 17:00, Monday, October 25
To vote, you need an account for the SNS you wish to vote with.
Voting closes at 17:00, Tuesday, November 10. "Likes" added after that will not be counted.
The images are for illustrative purposes only. Please note that the colors may differ slightly in the actual medal.
The finisher's medal will be sent to finishers after the meet.
Kyoto Marathon Official Facebook page:
https://www.facebook.com/kyoto.marathon.2021/
Kyoto Marathon Official Twitter page:
https://twitter.com/kyotomarathon
Kyoto Marathon Official Instagram page:
https://www.instagram.com/kyotomarathon/
(Concept A)
The winter camellia, believed to ward off evil, is crossed with an auspiciously spread out fan. The 11 blades that support the fan indicate the tournament being held for the 11th time. The confetti and snowflake patterns falling on the camellia are designed with the hope of good fortune throughout the Kyoto Marathon 2022 even in the times of Corona.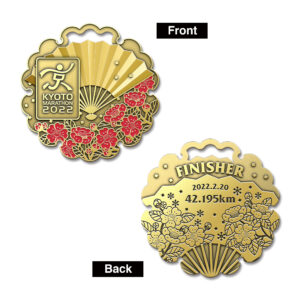 (Concept B)
"Fan", "Seigaiha" (wave motif), and "Asanoha" (hemp leaf motif) were used for this design. The "Fan" means growth and prosperity for the future, the infinitely spreading wave "Seigaiha" represents the hope for eternal happiness and peaceful life for all people, while "Asanoha" wards off evil. An important point is that the ribbon carries the Torii gate motif, which symbolizes the finish line of the Kyoto Marathon.